All about Lip Augmentation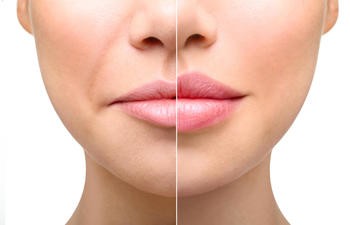 All about Lip Augmentation
If you google current beauty standards, you will find that the standards have their evolution. Nowadays, plumper lips have become the new beauty trend that is exercised among everyone. If you have seen it on high-profile celebrities or come across a friend with an entire outlook on their lips, you certainly know it's all about Lip Augmentation.
Lip augmentation is a cosmetic process in which the lips get fuller and plumper through injectable dermal fillers.
These injectable dermal fillers are gel-like substances and they add volume to the injected skin.
The most common injectable dermal filler used in the lip augmentation process is hyaluronic acid naturally present in your body.
Benefits of Hyaluronic Acid
The use of hyaluronic acid is a filler in this cosmetic procedure. They add volume and shape to the lips. They usually last from four to eight months. Other benefits of using hyaluronic acid as a filler include:
Volume control: The best thing about this filler is your cosmetic the surgeon will have easy control over the amount needed to fill.
Less bruising: The thought of injecting a gel-like substance could put a frightening idea. But if the gel-like substance is hyaluronic acid filler, there will be fewer bruises compared to others.
Long-lasting effect: Even though the effects are not permanent, compared to others, the effects are more reasonably lasting. They are not permanent; stress on that!
Allergic reaction: You should not be worried about having an allergic reaction to hyaluronic acid fillers, as they are made naturally from your body. You should address your doctor about this if you have allergic to lidocaine.
The lip filler, which includes injection of dermal fillers in and around the mouth, is the most popular lip augmentation treatment. These fillers include the natural chemical, hyaluronic acid, which contributes to increasing lip volumes in the body.
While lip filling is temporary, it offers a more permanent alternative known as lip implants that are formed like real lips with soft but substantial silicone implants.
Other treatments, such as fat grafting and tissue grafting, are then available.
Let us analyze in a bit more depth all of these strategies.
Lip fillers:
Many types of fillers are available but, hyaluronic acid, a natural material in the body that helps to enhance volume, is the most popular form of fillers used for lip enlargement.
The doctor must examine the symmetry and form of the lip and the overall face balance during the lip filler increase procedure. It is therefore chosen which regions of the lips must be more complete and plumper. Inject fillers into one or both of the upper and lower lips. The gel in the filler sustains the lip tissues and forms them.
The lip filling operation takes around 15-30 minutes, which is a business operation, and enables you to return home on the very same day.
Lip Implants:
Implants are placed underneath the lip fat and above the lip muscles in a tiny tunnel that the surgeon builds to accommodate the implant for a longer period. Surgeons usually chose the mouth corners to make incisions but, depending on the particular procedure utilized, may zero on the lips someplace else.
Three different kinds of lip implants: GORE-TEX, SoftForm, and AlloDerm are the most common.
Grafting of fat tissue:
A third procedure, the autologous lip increase, and its also all about lips augmentation is to enhance fullness with your fat and tissue. This technique is likewise an in-office procedure, like with the first two alternatives. It includes fat transplantation from your abdominal region.
It takes roughly 60-90 minutes to complete the surgery under local anesthesia.
Lips increased by 5 years or longer with fat remained full.
Tissue grafting includes the dermis or the skin's deeper layer, commonly from the abdominal wall or scalp, and tissues are sometimes collected by other procedures (abdominal reduction, breast reduction, facelift).